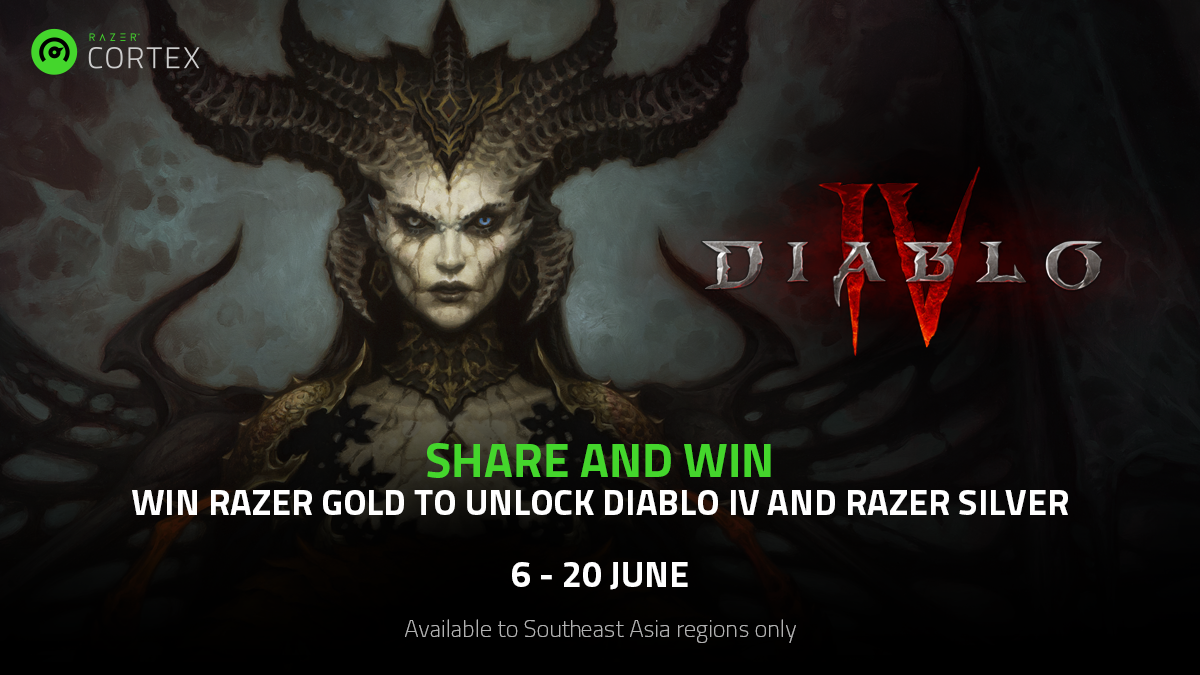 Hey Insiders,
SHARE AND WIN is back for the next two weeks! Razer Cortex will be giving away a limited amount of Razer Gold to unlock Diablo IV and 1,000,000 Razer Silver prize pool up for grabs. Up to 50 winners in total.
Campaign Duration: Jun 6 02:00 - Jun 20 02:00 UTC
Campaign region: Singapore, Malaysia, Thailand, Philippines, Indonesia & Vietnam
How to SHARE AND WIN:
Step 1: Log in to Razer Cortex PC
Download Razer Cortex PC, register a Razer ID or login with your Razer ID if you already have one.
Step 2: Join SHARE AND WIN
Go to the "REWARDS" tab in Razer Cortex and click "SHARE AND WIN." Join the campaign by:
Sharing the campaign on a supported social media platform.

Joining the campaign via an invite code which is shared by other users.
Step 3: Share and Win More Tickets
You will receive an invite code once you share the campaign. Share the invite code with your friends and earn more tickets when they join the campaign via your code.
The more people who use your invite code, the more tickets you will get. The more tickets you get, the higher chances you will stand of winning.
Step 4: Claim Razer Gold or Razer Silver If You Win
When each round of the campaign is over, the winning ticket numbers (calculated via algorithm) can be used to claim your reward. The winning tickets and winners will be displayed on the SHARE AND WIN campaign page. Winners can claim their prize there.
For more details about this campaign, please visit SHARE AND WIN FAQ and Rules.
Note: SHARE AND WIN is only available on Razer Cortex 10. If you have Razer Cortex 9 installed on your PC, please update here: https://www.razer.com/cortex