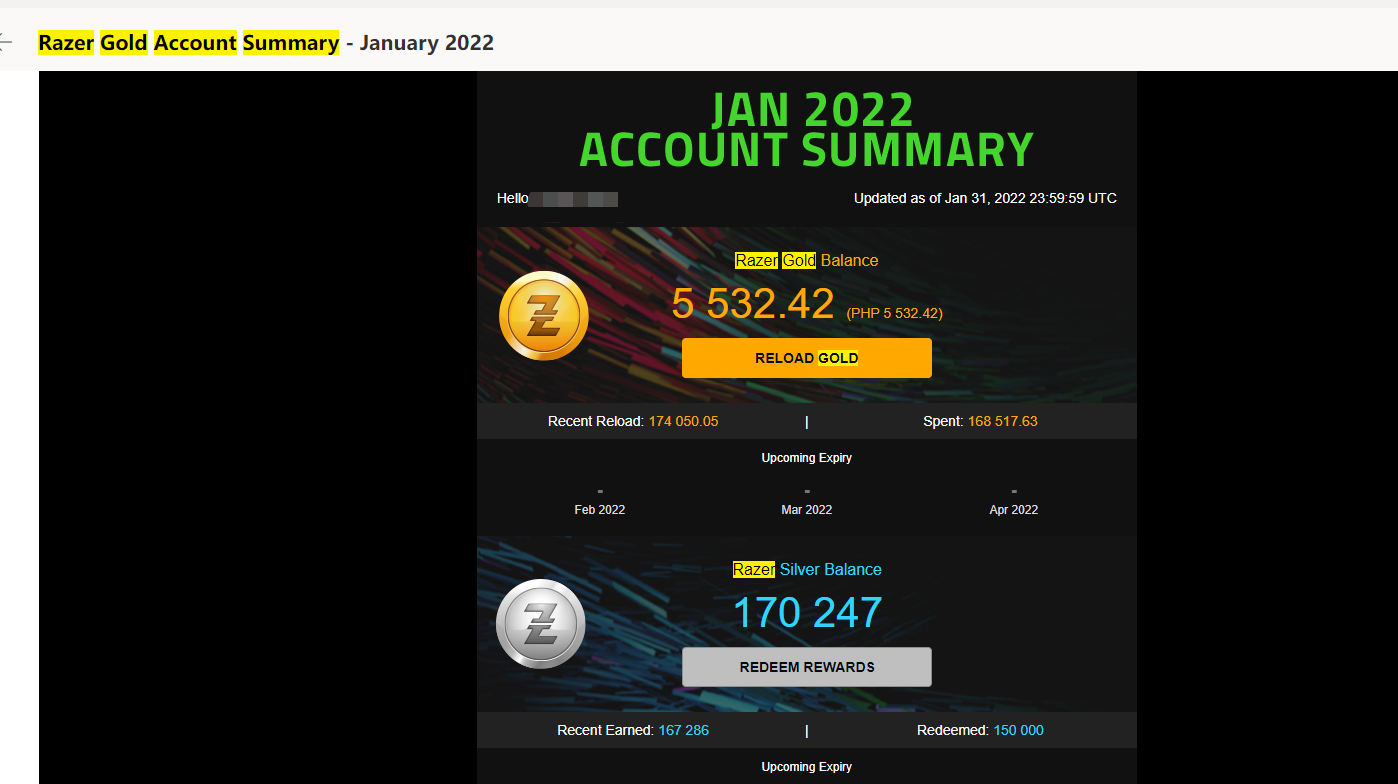 Intro(You can skip it if you want)
It can be seen from the picture that I am a gamer and only uses Razer products. The main reason isn't just because Razer's products are great to use, but because Razer's Chroma is really good-looking. I believe there are many people who have the same idea as me, and by chance, my friend recommended the Razer Gold to me. Because at the time he redeemed a Razer huntsman V2 Analog keyboard with Razer silver, and we basically topped up the same value. So I'm getting to know Razer gold gradually, but for a first-time user of Razer Gold, I just want to say that the first experience wasn't particularly good. I encountered a lot of problems when using it, and it took me a lot of time to solve them and let me know about Razer Gold. And many problems can't be directly Googled to the solution, so I want to share them with you. First, let me state that English is not my native language, so if you see grammar errors, please ignore them. Thank you!
Here is a list of my advice:
Let's talk about some of the things that most people are more concerned about.
directory:
0) Failed to reload with VISA
1) Razer Silver redeem tips and trick
2) About Razer Silver promo
3) Razer gold failed to reload
4) Could not find your game
5) Is it too late to Start using Razer Gold and Silver?
6) Verification
7) Expiration

Out of stock
9) Razer Gold and Silver promotions
10) Anniversary
0. Failed to reload with VISA:
/razer-gold-failed-to-reload-visa-the-only-solution.84913/
(The response is in this thread I posted)
1. When you redeem your Razer silver for items, try not to redeem the cheap ones. Because when the coupons are too cheap, you can't use them directly on Razer.com, and you need to pay $10 for Delivery + tax. It is best to change the item for the price of 80000 Razer silver or more. Sometimes you'll get it for free delivery!
2. If you don't have a lot of Razer Silver but really want to redeem an item, it's best to wait until a promo is available. If even on the promo and you still don't have an item you really want to redeem and your Razer Silver doesn't exceed 500k, I suggest you wait. Just a few days ago, I exchanged a Razer huntsman V2 Analog in the promo. A few days later, Razer silver launched a new product and the maximum amount of Razer silver wallets was increased to 500k. The main thing is that I don't really need the Razer huntsman V2 Analog, and the Razer silver is non-refundable after redemption, so please take these factors into consideration.
3. When you reload your Razer gold wallet, I suggest you top up with Razer Gold PIN. Because when you use VISA, Paypal, and other payment methods. It often fails to reload, and even if you submit a ticket or live chat, razer support will only ask you to wait a few days or recharge with Razer Gold PIN. Therefore, it is recommended that you recharge directly with your Razer Gold PIN without any restrictions. This problem has troubled me for a long time before, and I also called the bank to confirm. Neither solves the problem, but these kinds of problems have decreased a lot lately.
4. If the game you are looking to buy disappears from the catalog, it means that the razer is Restocking. (This happened to me five times)/or another whole different reason is that game is not available in your country.
5. Is it too late to Start using Razer Gold and Silver?
Now is definitely the best time to join, I've seen a lot of ads for razer gold lately. And the events have increased a lot, and the rewards pool of Razer Silver is constantly updating. So it's definitely the best time to get in if you like to play games and spent any amount of cash on them.
6. Another very important thing is the verification problem if you bind your mobile phone to receive the verification code. There will be many potential problems, that is if you switch to a new phone and a new number. Or the signal is not good and the SMS cannot be received. These are sometimes very difficult problems. I suggest you save a backup code and change the authentication method to Microsoft authenticator. This solved a lot of my problems!
7. Razer silver expired in a year, and the "bonus razer gold" or voucher that you get from the event expires at the end of the month. Remember to use them before the expiration date.
8. Once Razer silver's redeemable items show out of stock then you have almost no chance to redeem him again, after a while this item will be takedown from the list. If you see something you really like, please redeem it as soon as possible.
9. Please pay attention to razer gold promotions in real-time, when I started to use Razer gold I didn't pay attention to the promotions. Which cost me a lot of benefits, I could gain 50k more Razer silver if I had to keep track of that so please take a good look at it at least once a month.
10. There must be a promo during the anniversary, on both razer silver and gold.
That's all I've come up with so far, I hope these are helpful to you. If you have any questions, you can post them directly in the comment area or DM me, and if I see them, I will reply. If there is something wrong with my advice or you want to add something, please leave a comment, I hope these can help the people who are new to Razer gold and silver or looking forward to using Razer gold and silver. Thanks