I have posted about issues with my Razer Blade Pro in these forums before and those were all resolved following a system restore. I, however, have began to experience an issue with my laptop even after doing a system restore leading me to believe this is a hardware issue. I am short of buying a new M.2 AC Card for the laptop and putting that in to see if it's a driver issue or a hardware issue. A lot of people do seem to have issues with the Killer Wireless cards based on reviews, so mine might just be crapping out.
The internet just cuts out and won't connect anymore. Upon going to try to reconnect, Windows says there are no networks or will just refuse to load anything at all in the WiFi panel. It only work again after completely reinstalling the AC Card from device manager and re-configuring it.
Working:

Then Crash:

Going back in it will either load indefinitely until BSOD, trick you into believing networks exist and then BSOD after a long time of trying to connect to one, or will BSOD without reason because the computer just freaks out. All BSOD's report Qcamain10x64 as the culprit, which makes sense. The only way to avoid BSOD is to restart the computer or uninstall and reinstall the AC Card device in device manager, at least from what I've attempted.
During the loading and writing up to this point my network card has crashed a total of five times. Each time I am forced to uninstall it from device manager and reinstall for it to work, if I'm lucky, another twenty to thirty seconds. This seems to only happen while downloading some things. I am currently downloading a few gigabytes worth of Native Instruments plugins.
Directly connecting to Ethernet through my router does not show this issue. This further leads me to believe it to be an issue with the WiFi card.
Here is a screenshot from event viewer: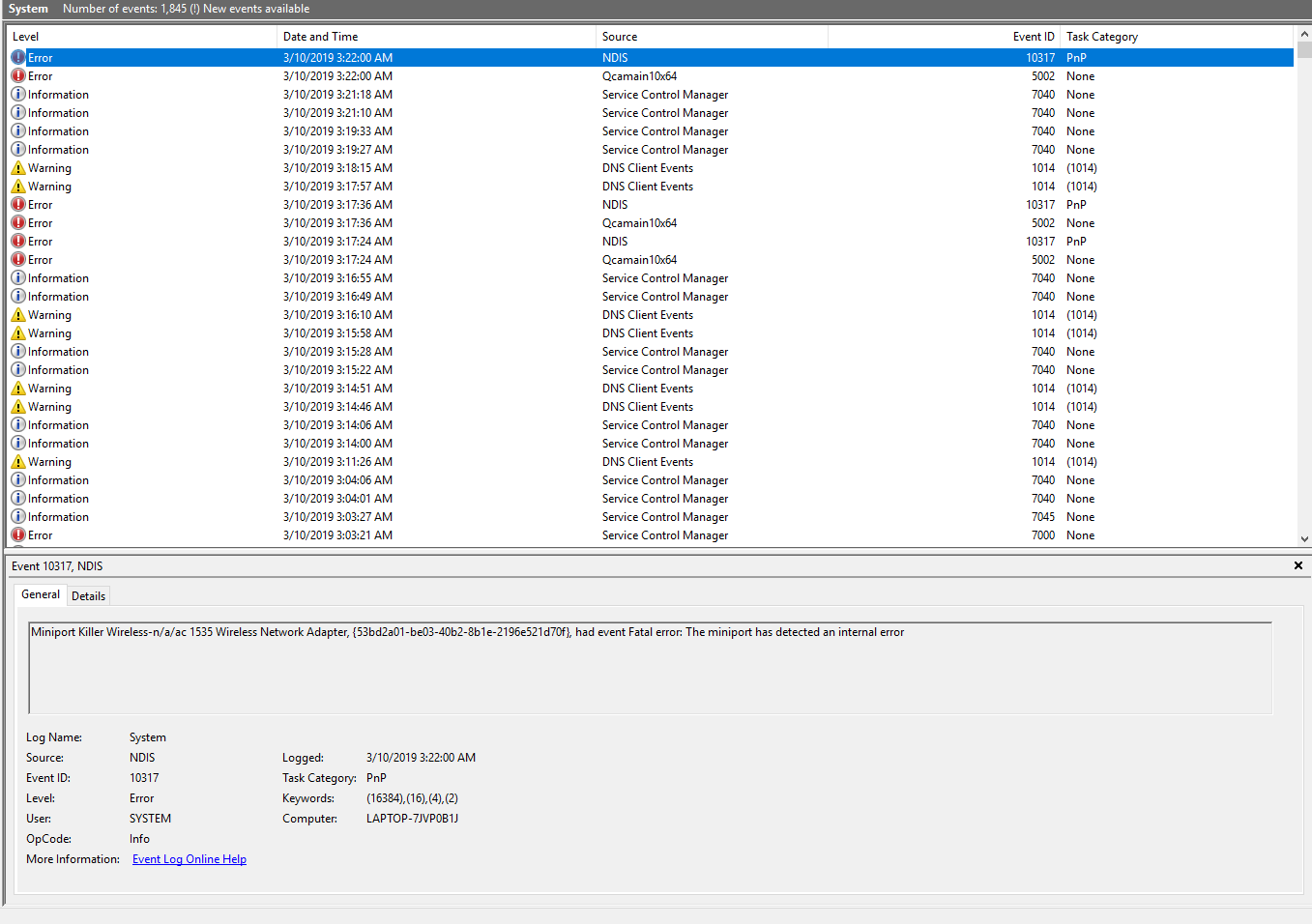 These errors are beginning to number in the hundreds, and I am at a total loss how to solve this issue. I would like to be able to do anything I can on my end before having to send it in to Razer.
The new M.2 AC Card I plan to install soon.
https://www.amazon.com/Intel-Wireless-Ac-9260-2230-Gigabit/dp/B079QH5KW1
If anyone else has any idea how to fix this, such as specific drivers or better M.2 cards, please let me know. It would be greatly appreciated!
DxDiag Report:
https://www.dropbox.com/s/7265k35nfgpjqgy/DxDiag.txt?dl=0
MSInfo Report:
https://www.dropbox.com/s/gij76fnv4q4ypeu/MSInfo.txt?dl=0
Addition: Also, if anyone from Razer support could send me the latest fresh bios flash image for my model that would be greatly appreciated. Also wondering if you guys sell replacement screws and rubber pads for the underside of the laptop or could point me in the direction of equivalents.