Hi! Does anyone else have an issue where the 2020 Razer Blade Advanced won't pull over 3A @ 20V (60W) from USB-C (or Thunderbolt 3 over USB-C) when connected to a docking station? I've updated to the latest 1.06 BIOS, latest EC firmware, and reinstalled windows 20H2 with updated thunderbolt drivers and everything. The laptop simply will not pull over 3A over Type-C when connected to a dock. I've tried many docks too, including a Dell WD19TB with 180W PSU (90w advertised power delivery for non-Dell systems), Lenovo Hybrid USB-C Dock (90w advertised PD), and recently a Pluggable TBT3-UDZ, which has a 96W advertised power delivery capability. When any of these docks are plugged into my friend's MacBook Pro, the system reports the correct power delivery capability of the docks. However, my Blade simply won't pull more than 60w, no matter what I try. The only way I've seen to get the Blade to pull anywhere near 5A @ 20V (the limit of the official USB-C Spec) is to use a 100W PD charger and a 5A E-Marked C-C cable.
At first, I thought maybe the E-Markings of the USB-C cables was the issue. So, I tried swapping cables around the docks and the charger brick. Turns out, that wasn't the issue. My findings are in the chart below: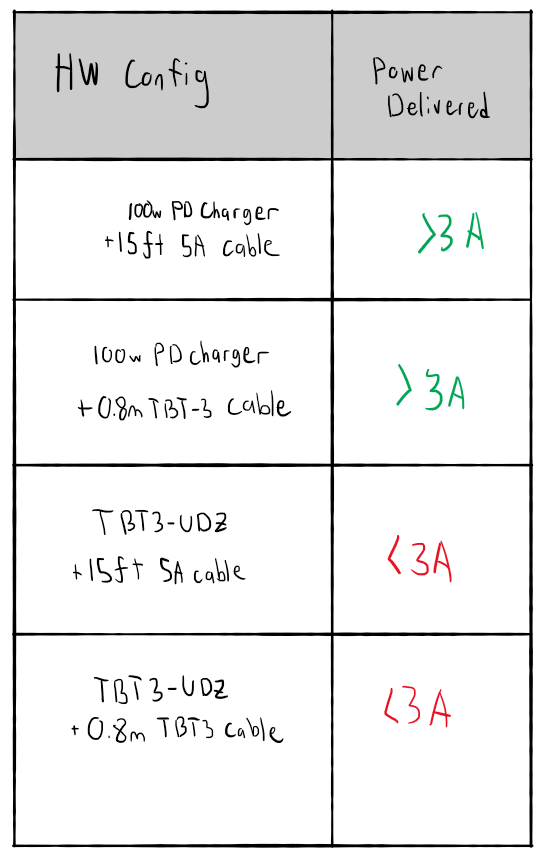 Then, I thought the issue was maybe only with Thunderbolt docks, so I borrowed my brother's Lenovo Hybrid USB-C dock, which is purely a USB Hub (with a DisplayLink chip to drive it's display outputs).... and it was still limited to 60W.
I'm out of ideas. At this point, I think Razer's implementation of USB-PD is just broken. My hypothesis is that the laptop only has one USB-PD profile for >3A, and that profile is explicitly 5A @ 20V. My guess is that the Blade doesn't have other fallback profiles, such as 4.5A (90W), 4.25A(85W), or any other common fallback PD profiles, so it just falls all the way back to the standard 3A profile. This is bad, because dock manufacturers aren't (AFAIK) allowed to advertise 100W USB-PD from their docks. Especially with Thunderbolt docks, where I think the Thunderbolt spec only allows an advertised power delivery capability of 96W or 97W (which is why Pluggable's dock advertises 96W, not 100W). I submitted a support ticket LAST YEAR, and nothing has come of it. They basically told me that I should use a first-party USB-C charger, which kinda defeats the purpose of USB-C, since it's supposed to enable compatibility with a wide range of accessories. This issue applies to my friend's 2020 Blade Stealth as well. He could get 100W from his USB-PD charger brick, but no more than 60W from any kind of dock.
I'm going to buy the new Razer Thunderbolt 4 Chroma dock (90W advertised PD), and see if Razer's own dock can charge their own laptops at the advertised wattage, though I'm kinda expecting it to get stuck at 60W too.
Has anyone else gotten their USB-PD capable Blade laptop to accept over 60W from a USB-C docking station?
BTW, I'm also having the same issue this guy (Here:
/blade-15-2020-adv-usb-c-charging-problem.60679/
) was having. AND, in his videos, you can see that when he does manage to get his laptop to charge, it charges around 3A @ 20V, which is 60W.
Razer, pls fix.
7/14/21 UPDATE: I bought Razer's In-House Thunderbolt 4 Dock Chroma. It doesn't charge my 2020 Blade 15 Advanced at 90W. It's stuck at 60W, just like the other docks. Razer didn't come up with a proprietary charging protocol addon to USB-PD, they just screwed up their implementation up so badly that their first-party accessories don't even work. :slightly_sad:
10/18/2021 Update: I had contacted Razer support months ago, and they said that they had identified the issue, and that I should wait for a response. It's been a few months, and nothing has come of it. L