Hello Insiders!
This is a guide on how to navigate the "Your Account" settings here on Insider, allowing you to configure your account and profile page to your preferences.
Also as a quick starting note to everyone, if you have a randomized username from RazerID and wish to change it, you can do that on the RazerID site
here
, under the "Account" section.
If you need help with anything mentioned here or if you need help in general, feel free to contact one of us Vanguards
.
Getting Started:
In order to access "Your Account", you can click on your profile picture in the upper right corner of the top bar on Insider, as shown here:

When you do this, you should land on the "Personal Details" page, and you should see several other menus on the left sidebar separated into 2 sections, with a heading "Your Account". You can view your Alerts and Conversations here, but we will be focusing on the "Settings" section.

If you wanted to view your profile page like other user's can, you can hover over your profile picture, and click on "Your Profile Page" option.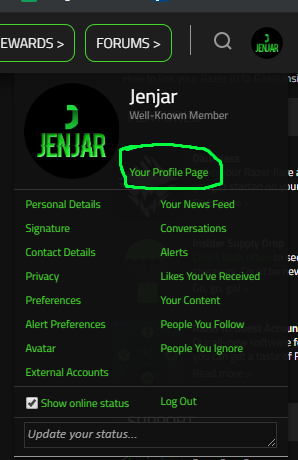 Settings:

This is the section to edit your personal details, such as your status message, avatar (Profile Picture), Gender and many other basic things. You can also edit your location, occupation, Steam ID as well as fill in your "Battlestation Specs" and "About You" Section. All of this information will be shown in the "Information" section on your profile page.

Please note: When changing your profile picture, you will be redirected to the RazerID site. When you update your profile picture there, it will take a while to update here on Insider.


This is where you customize your signature. Anything you put in this box is shown on every post you make on Insider, in the section separated from your main post with several "---" signs. Most users post their products owned in this section, or social media links. Please note that things such as sale or trade listings, or other sketchy links are not permitted, since they violate the Insider House Rules.


There is not a whole lot to do here, however you can change who you accept conversations from, edit some email notification settings, and link other social media platforms you may have such as Facebook or Twitter.


You are able to change your privacy settings, such as who can view your profile and see your birthday.


Here you can edit your preferences, such as your preferred theme (Razer Style is a light theme, Dark Razer Style is a dark theme), your time zone, as well as opting for emails on watched threads, etc...


You are able to change what you would like to be alerted for, from replies to a watched thread to people mentioning you in threads.

Alerts can be viewed in the "Your Alerts" menu that we mentioned at the start of this thread.


You can view the list of people you follow, as well as unfollow people, or follow new people using their usernames. You are able to follow and unfollow people on their profile pages as well.


You can view the list of people you ignore, as well as unignore, or ignore other people using their usernames. You are also able to ignore people on their profile pages.


Here you can ensure that your RazerID is linked to your Insider Account, which if you made an account pretty recently, it should be since you needed to sign up to insider with your RazerID.

In case your account is older and not linked yet, you can view how to link it here.