Hello, just a few days back, I noticed Razer Synapse 2 is no longer booting on Windows Startup, I tried to reinstall the app but after I downloaded the file from https://www.razer.com/synapse-2, I found that I was unable to open the file. I keep double clicking the file but nothing is happening, I even right click and tried to run it as administrator, and still, no installation prompt pops up.
I am using Windows 10 64-bit operating system. I tried moving the installation file to my windows 7 and confirmed the file is working, I was able to install it successfully on my windows 7, but it just doesn't open on Windows 10. I tried turning off Windows Security and Firewall too.
Lastly, I used system restore to restore my system to before I uninstalled Razer Synapse 2 but now the app is not working. When I open the app, it requires my to update the file: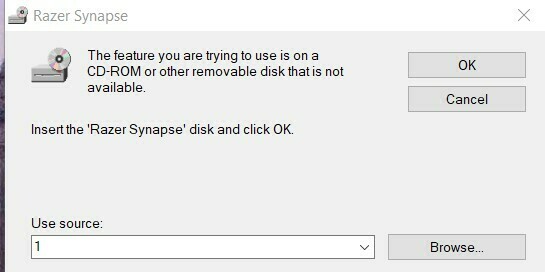 Can anyone tell me what I should do to reinstall Razer Synapse 2 on my Windows 10?