LONG-AWAITED RAZER CORTEX PC 10. NOW AVAILABLE FOR BETA TESTING.
Hey Insiders,
We are pleased to announce the new and improved version of Razer Cortex PC, and we want you to be the first to take part in our beta program!
Razer Cortex PC 10 will feature a fresh new UI as well as even more features to enhance your gaming experience.
How to get Razer Cortex PC 10 on your Windows PC 10 & 11: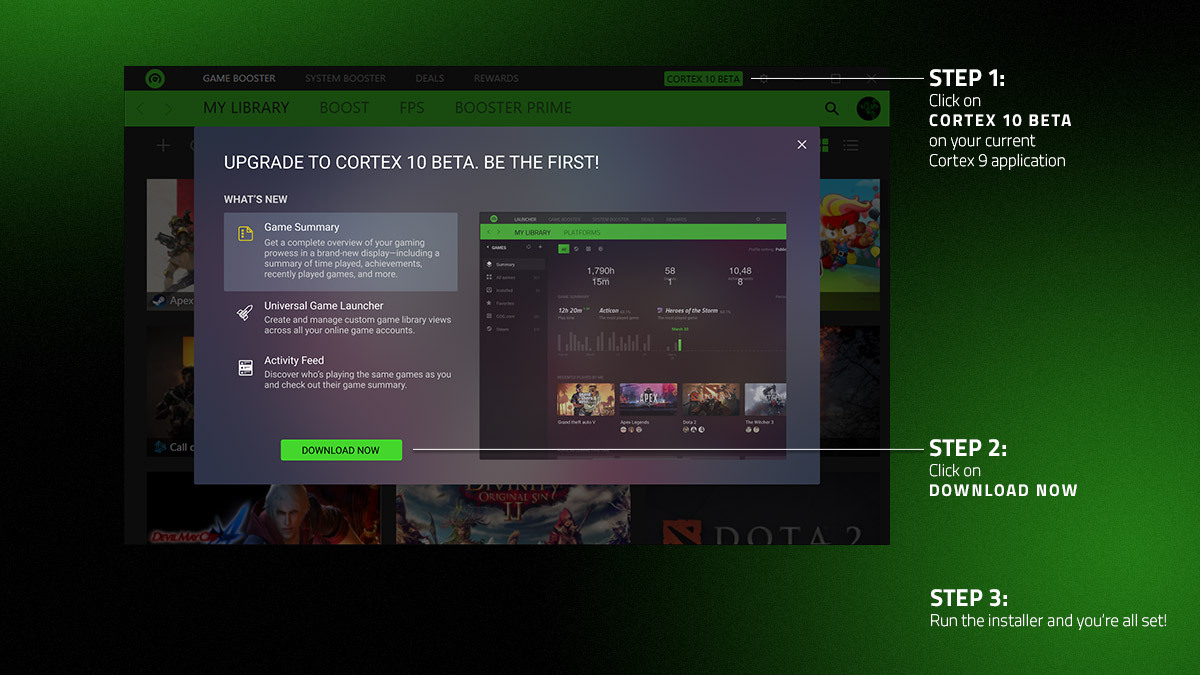 *Get Cortex PC 10 beta access from your existing installation of Razer Cortex PC 9.18.
What's new?
Besides the revamped UI, we have some new exciting features that will level up your game.


Updated look with easy to access tabs

Unified Game Library – Quickly launch your favorite games in one place

Connect to your favorite platforms to connect to your game library, track all your games and achievements

Game Platform Integrations – Connect to your favorite platforms like Steam, GOG, Origin, Ubisoft and Humble Bundle to view all your games and profiles on Cortex PC

View and Manage Game Data – View your game data from achievements, recent gameplay, game recommendations that matches your game type

In-Game Details – View and track FPS throughout your gameplay, with or without game boost enabled

Find Other Players – View other Cortex PC user's games and achievements who are playing the same games as you, join similar discord groups and play together

Enhanced PC information

My Rig – Now with even more details covering your rig's individual components

FPS Overlay – Manage your FPS overlay with even more customizable options

Boosters

System and Game Booster – Both boosters have been redesigned and provide more content to be scanned, allowing you to have more control over what you to be enable or disable

Beta Feedback
We want you to have an enjoyable experience with Cortex PC 10 and would love your feedback on it!
We want to know what you think of the latest version of Cortex PC, do let us know if there are:


What you love and what you don't about the new Cortex PC

Stuff that's not working or any bugs

Stuff that could be done better (don't forget to suggest how)

Stuff that looks odd or doesn't make sense to you

Crashes (try to explain what happened up to the moment the app crashed)

How to submit feedback:
Option 1
– On the Cortex PC app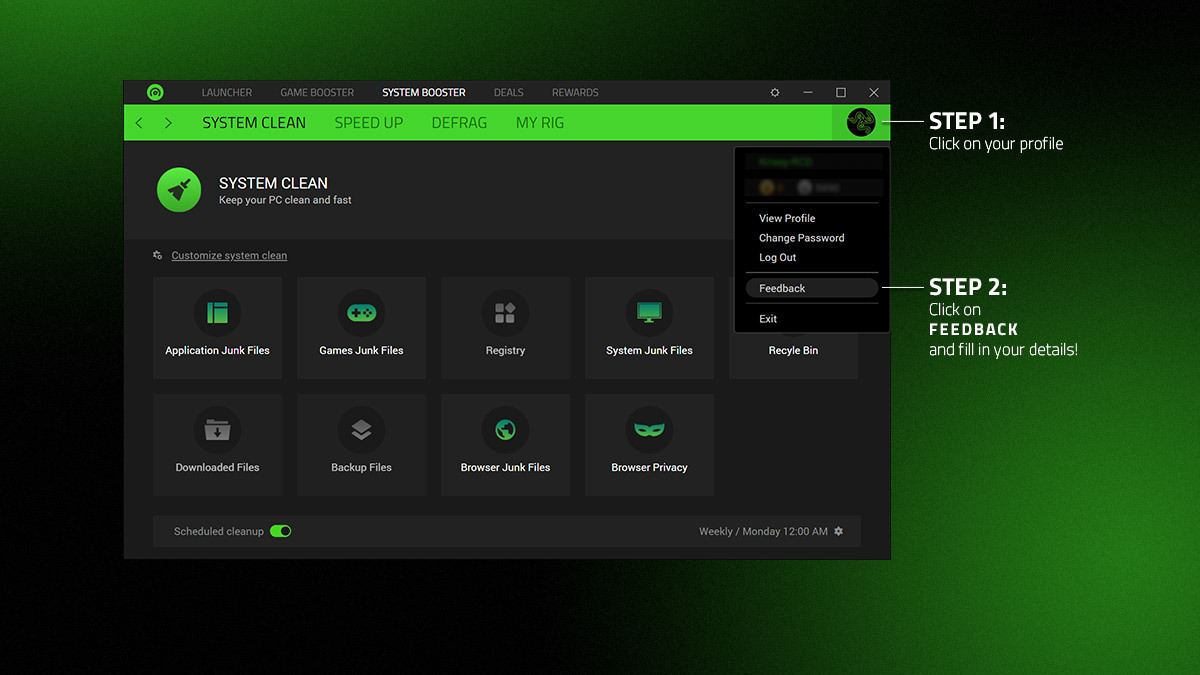 If you're reporting bugs, it would be great to include your log file for our team to investigate: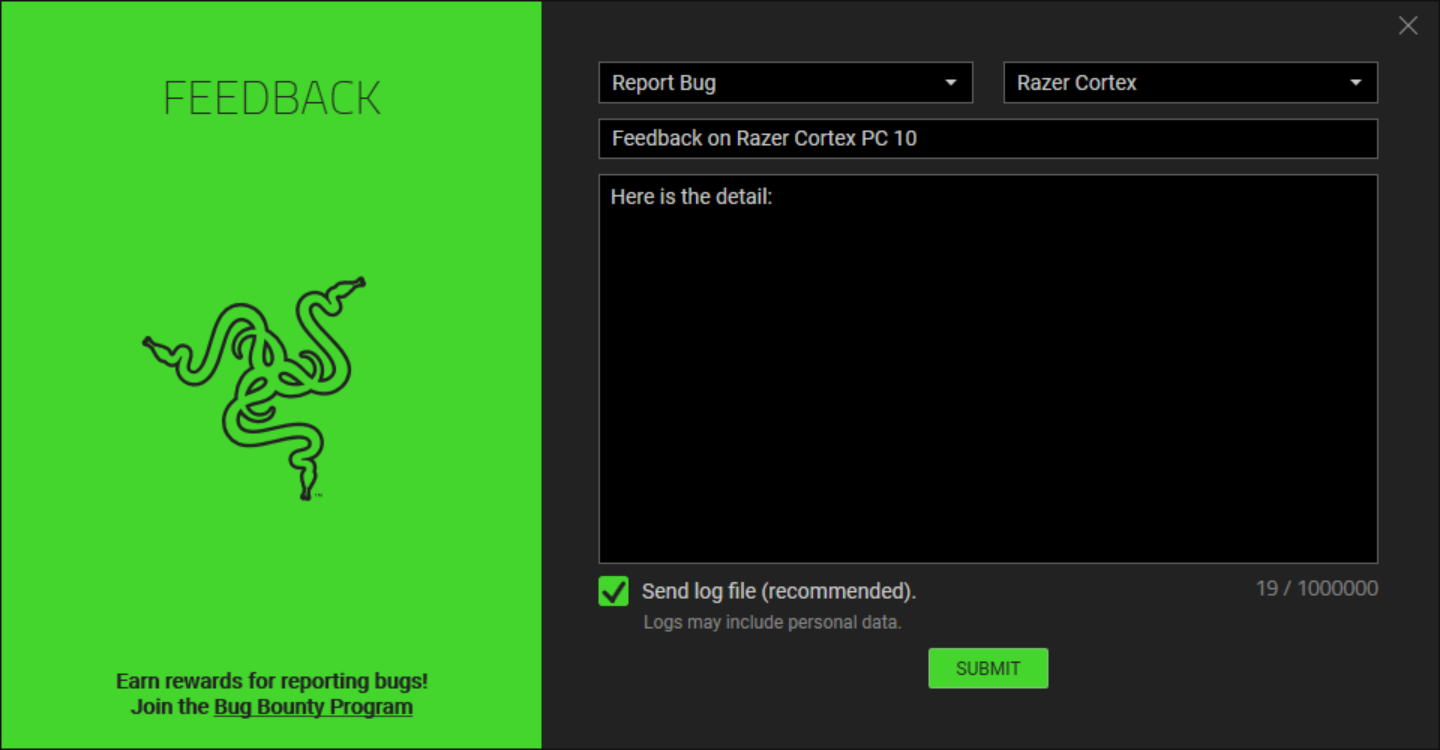 Option 2
– On Razer insider
Alternatively, you can also give us feedback on Razer Insider by posting your comment in this thread. Do check to see if a similar report to yours has been posted. If it has, reply to that thread instead. Let's keep the thread tidy! The Cortex PC team will be keeping a watchful eye on your submissions and work on your feedback where possible.
Note:
Please keep in mind that this is a work in progress early beta build that we'll continue to improve before the public launch of the software based off your feedback.
We at Razer appreciate your support and participation in this beta. Your feedback is important to us as with your help, we believe that this update will provide a much-improved user experience for all users.
We look forward to your feedback!
The Razer Cortex PC team